Fresh look and feel, same remarkable tasting drinks
It's a little hard to not notice big changes on our website and social feeds. After lovingly re-introducing Franklin & Sons in 2015, we have built a path during those 7 years inspiring both bartenders and foodies to experiment with taste by using our remarkable drinks for extraordinary moments. But for us, it was time for a refresh.  
Taking feedback from top professionals in the drinks industry, our new modern, clean look provides a fresh feel to the brand, bringing the flavour of the product to the forefront with bold, statement colours. "Our new visual identity simply reaffirms our focus on the delivery of great taste." says Rebecca Allinson, Group Marketing Director at Franklin & Sons. "From our pioneering roots, we continue to grow the brand with passion, simplicity and above all with remarkable flavours at its heart." 
Our new design also marks the launch of two exciting new sodas to add to our collection. Pink Grapefruit Soda, the perfect ingredient to make an incredible Paloma and Guava & Lime Soda, adds to the extensive product range which stands out with citrus notes but doesn't overpower any spirits.  
Ready to try? Why not experiment with our latest summer cocktail recipes below, and order our sodas directly through our shop: 
Guava & Lime Coconut Mojito
A taste of the tropics all year round, so even if you're relaxing at home this cocktail is sure to bring the feeling of a tropical vacation.
Ingredients:
50ml Coconut rum
20ml Fresh lime juice
15ml Sugar syrup
6 to 8 fresh mint leaves
Topped with Guava & Lime Soda
Method:
Place the mint in a highball glass and add all the ingredients, give it a stir and enjoy!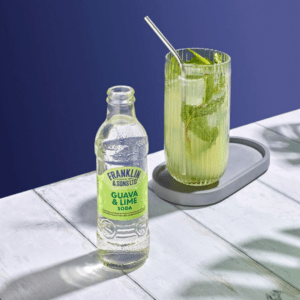 Paloma
Our new Pink Grapefruit Soda perfectly complements tequilas and mezcals, creating an extraordinary Paloma and other remarkable drinks.
Ingredients:​
50ml Blanco Tequila​
25ml Pink Grapefruit Juice​
10ml Lime Juice​
7.5ml Agave Syrup​
​Method:​
Shake the first four ingredients and strain them into an ice-filled glass. Top with Franklin & Sons Pink Grapefruit Soda and garnish.