So Let's Talk Mural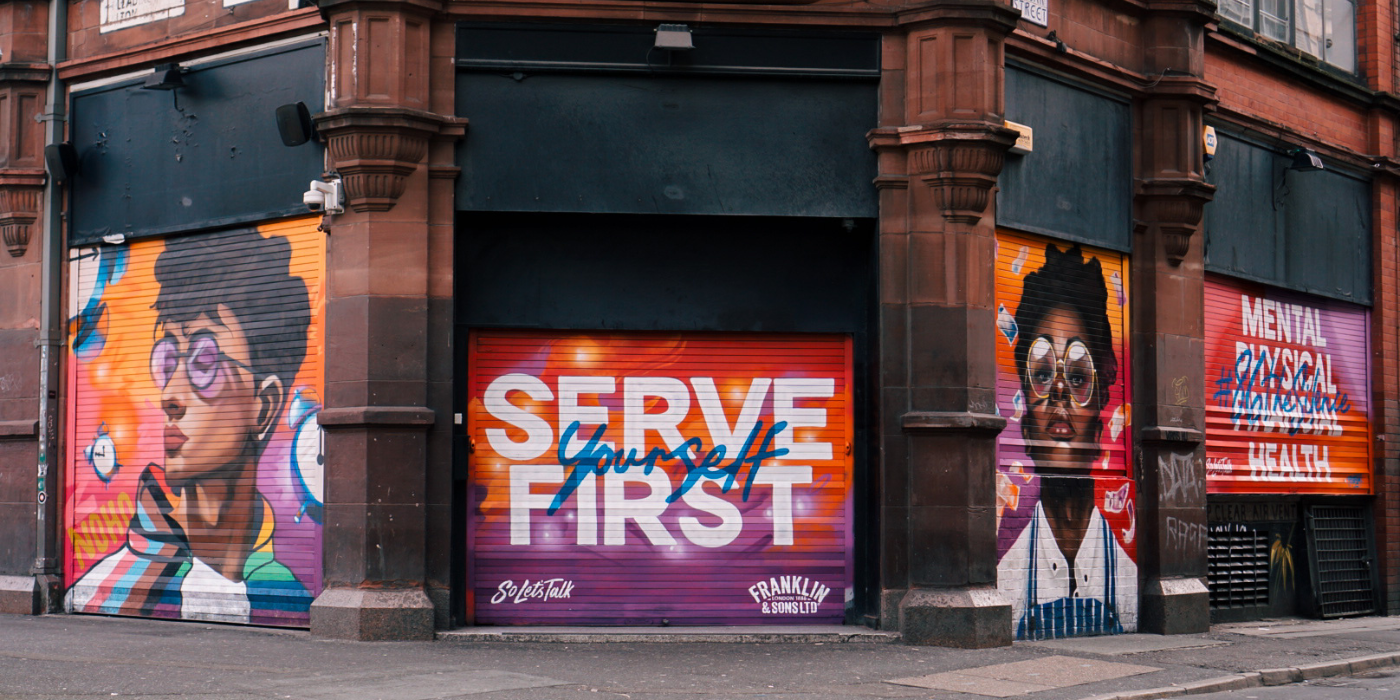 Franklin & Sons, has partnered with hospitality support organisation So Let's Talk, revealing a mural shining a spotlight on their partnership, supporting the mental, physical, and financial health of hospitality professionals.
The mural has three figureheads, representing the areas that So Let's Talk use to hone their wellbeing advice to hospitality professionals – brain, body, and bank account. These three areas align with Franklin & Sons guiding pillars for how they work with the industry – to educate, celebrate, and collaborate across the hospitality community.
The first figurehead represents serving yourself before you serve others, looking after your brain through walking in nature and getting out of the workplace. This accompanied by a 'life balance' mural, emphasising So Let's Talk focus on taking the work out of work-life balance, and always putting yourself first.
The second represents looking after your body, through sleep and exercise. Hospitality professionals often actively avoid a core biological function to work late into the night or across long days, to serve others. The third figurehead is about keeping control of your finances and talking openly about money.
The mural has been created on Stevenson Square, one of the most popular city squares in Manchester, Northern Quarter. It was created by Shawn Sharpe AKA Reasm one – a self-taught artist that has been painting for just over 10 years. Starting out at the age of 18, he paints everything from classic graffiti, portraits, type, anamorphic pieces and more. He has also worked for the likes of Corona, Smirnoff and Revolution Bars. See more of Shawn's work over on Instagram.
So Let's Talk deliver sessions in person, online or most recently via podcast to their ever growing list of powerhouse hospitality businesses across the UK. Collaborating with experts in the fields of mental, physical, and financial health to create these sessions, the team at SLT then deliver them from a place of lived experience after decades of working in hospitality. Follow So Let's Talk on Instagram for more info.
The mural is across the shutters of NoHo – an independent bar in a Grade II listed property serving seasonal cocktails and classics using the freshest ingredients, and Dusk til Pawn – a prohibition-chic lounge with a pawn shop storefront serving craft cocktails, wine & beer.
Alongside the mural, Franklin & Sons launched the hospitality fund earlier this year, becoming the first organisation to adopt funding mental, physical, and financial support sessions for their customers, with So Let's Talk. All that venues stocking Franklin & Sons have to do is get in touch with the team for more information.
James Stimson, Senior Brand Manager at Franklin & Sons said: "Hospitality professionals are the heart and soul of the UK's remarkable drinks industry. We're here to continue supporting our community and any venues working with us that are looking for mental, physical, and financial support. "So Let's Talk is the perfect partner to deliver these sessions, with their team's down-to-earth approach to support rooted in first-hand experience in the hospitality industry. We look forward to continually pushing for change in the drinks industry, through this remarkable partnership with Paddy and the team."
Patrick Howley, Founder & Owner at So Let's Talk said: "Uniting with the drinks industry to support hospitality professionals just made sense! The team at Franklin & Sons were the first large drinks organisation to jump at the opportunity to do exactly that. From the first meeting with the team at Franklin & Sons we felt their passion for this partnership. The more people that know about the work we do, the more people we can help and this mural is another step towards 86'ing The Silence. We're so excited to create more positive change together with the team!"
Earlier this year, Franklin & Sons and So Let's Talk hosted a series of events to educate and empower the bar community during mental health week, equipping bartenders with essential mental health tools. The events were held as So Let's Talk revealed that a staggering half of all hospitality teams experience some form of negative mental health during their career.